Welcome to Central Houston Cadillac
Important Information
Hide Information
Preproduction model and simulated vehicle and charging shown throughout. Actual production model will vary. 2023 Cadillac LYRIQ by reservation or preorder only.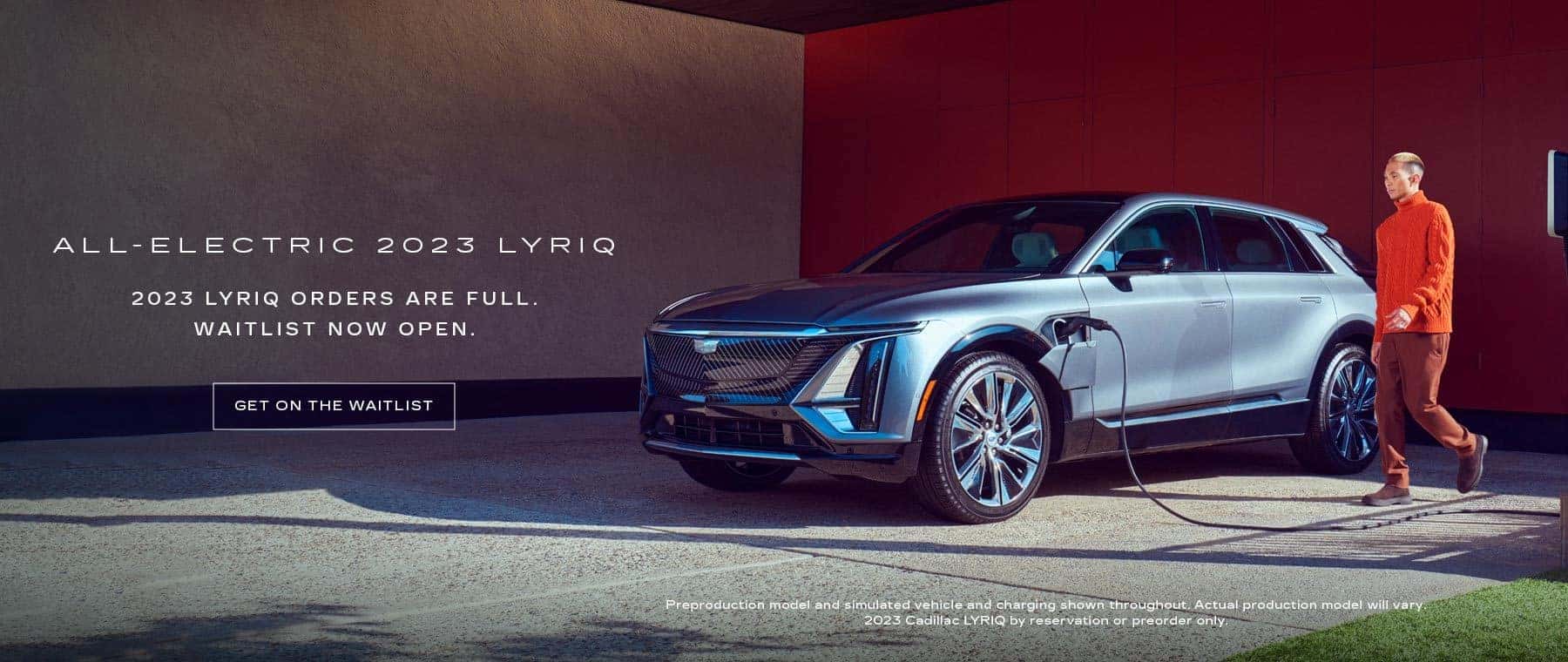 Important Information
Hide Information
1. Monthly payment is $21.22 for every $1,000 financed. Average example down payment is 15.7%. Some customers may not qualify. Not available with lease and some other offers. Take new retail delivery by 5/31/22. 2. Not available with lease and some other offers. Take new retail delivery by 5/31/22.
Important Information
Hide Information
1. Excludes 2022 CT4-V Blackwing and CT5-V Blackwing. Monthly payment is $21.22 for every $1,000 financed. Average example down payment is 15.8%. Some customers may not qualify. Not available with lease and some other offers. Take new retail delivery by 5/31/22.
Certified Pre-Owned Vehicles
Each Cadillac CPO vehicle is thoroughly inspected, reconditioned, and includes two factory-backed limited warranties with roadside assistance.
Our Reviews
My experience with Mr. Alvester on Wednesday was supberb. He answered my questions, and gave reccomendations on what was needed. He earned a 10 from me!!
I have had nothing but the best service from this dealership. Amanda in the service department is awesome and truly makes sure my vehicle is taken care of like it were her own.
I had a Jeep that was extremely unreliable and had a horrible experience with the previous dealership. Then I met Tony at Central Houston Cadillac and everything changed. He took the time to listen to what I wanted to achieve financially and what to look for in a vehicle. When you go to Central Houston Cadillac, ask for Tony McClelland!
I recently went to Central Cadillac for car repairs. My service representative greeted me with a smile and was enthuse to help me. Bkai understood the nature of my concerns, she was very helpful and patience.
Mauricio was extremely courteous and made sure my car was serviced in a timely manner. Although I purchased my Cadillac at a different local dealership, I have been using Central Houston Cadillac for service.
Fast and courteous service. Service rep Anthony was very helpful from scheduling to explaining the work to providing updates throughout the service appointment. Highly recommend!
The service department did a great job finding and fixing the "noise" problem and making me feel comfortable as I waited. I appreciate being able to trust Alvester and the others as they helped me this time and in the past.
The service was personalized and professional and I was very satisfied that Bkai took the time to search and see that I still had warranty remaining and was able to use that instead of my service contract.Overall she is a top of the line asset for Central Houston Cadillac.
Anthony Plaza was spectacular with his customer service and attention to detail!!! Dealership is wonderful as is the entire staff!
Great service they do good work n they are very courteous and efficient and knowledgeable thanks
Everyone was very friendly and they made it easy to drop off car for oil change and be picked up. The drop off and pick up car service was also great.
Great staff will do everything they can to make sure you are happy and satisfied with your purchase. They will continue to provide great service after the sale!
I like that excellent experience good approach nice conversation good deal and she's a smart
Great dealer ship had few bumps the first time but Caesar sales and everyone else came through and i purchased the vehicle Thank you would recommend
Service advisors were very helpful. Took time to research terms of prepaid service agreement. Work completed in reasonable time. Much appreciated. Will return for future service.
12.23.2020 Darren Robinson Mr. Robinson is to be commended for exhibiting 200% in courtesy, professionalism and wealth of knowledge in automobiles. Kudos fir Darren!!! My automobile looks great!
Central Houston Cadillac, is one of the first Cadillac dealerships built in the heart of downtown Houston many years ago. All the staff employees there, have compassion for their customers, and will work hard to put you in a vehicle. All of their vehicles are in great condition, both new and used. Central Houston Cadillac vehicles are affordable, and they make your monthly payments affordable as well. I am a very happy customer, and in six months to a year, I look forward to purchasing another vehicle from Central Houston Cadillac. Ask for Kimberley when purchasing your next vehicle from CHC. Thanks Central Houston Cadillac for all that you do.
Destiney Morris was incredible! I had a a certain budget I needed to stay within and they worked with me and I was able to close the deal within a couple of hours. Destiney went above and beyond the line of duty to find a way to close the deal. If you're in search of a vehicle, I would recommend Central Houston Cadillac. Ask for Destiney!
Way back in April GM plant was all out of the Garnate Metallic. Mr. Darren Robinson went above and beyond to get me the CT4 I wanted. He kept me posted every shipment his dealership received until the color finally came in Sept. and we closed on the car. Mr Darren took the time to carefully demonstrate all the bells and whistle in the CT4. I can truly say I received an excellent purchasing experience.
Customer service was very good very satisfied Rick very helpful I will refer more customers to him my second time buying a car from Central Houston Cadillac
Sales rep Kimberley Bell was excellent to work with. She was generous with her time in helping us find the Cadillac we wanted. Excellent personality. Worked to make the car affordable for our budget. Recommend her!!!!!
If you want a GREAT experience purchasing a vehicle go to Central Houston Cadillac and ask for Mr. Darren Robinson. I would send any one there if they were looking to purchase a vehicle. I would like to give Mr. Robinson a 10**********, SHOUT OUT and a Thank you very much! Mr. Robinson was welcoming, informative and very knowledgeable about the vehicles. He went above and beyond my expectations in managing my purchase. Mr. Robinson went so far as to follow me home to pick up additional paper work needed to complete my purchase, so I didn't have to go home and come back. When I finished my purchase he programed my vehicle so I had hands free driving without me asking, gave lots of information I wouldn't have thought to ask. When I left I was extremely satisfied and had a great experience. He followed up to be sure all was well. If you want a great experience go to Central Houston Cadillac!!!!
Many Thanks to Cesar Rojas, he gave me Top of the Line First Class treatment from minute 1 and the entire time. Cesar's professionalism, kindness, knowledge and No pressure sales tactics made me feel great and comfortable about my investment. Central Cadillac staff greeted and welcomed me like Family. Looking forward to catching up Cesar when I purchase my next Cadillac.
Let me tell you about my experience with Central Houston Cadillac. The best way to explain it is this dealership specially the Sales Manage Justin and my Sales Person Xavier knock this deal out of the park by a long shot. I was working on a New Escalade Demo at another dealer trading in my 2017 Corvette Grand Sport. This dealer was giving me less money and giving me a demo vehicle with 4,000 miles on it. I called Central Houston Cadillac and spoke to Justin and I was upfront and told him the deal I was getting and he beat it right on the phone. So I drove to his dealer to look at the Escalade he was selling me. His Escalade only had 2,000 miles but the problem I run into was it was Silver and I was looking for Grey. Another Cadillac Dealer I spoke to has the Grey I'm looking for so I walked back to my car to go to the other dealer and that's when they stop me and asked what will it take to make this deal happen. I said the color but they didn't have the color I'm looking for. So right there and then I was told not a problem will get you a brand new Escalade no miles and to even sweeten the deal, they didn't have the truck and they had to do a dealer trade 200 miles away. Just to make this sale. I came here for a 2018 Demo Escalade with 2K miles and I ended up getting a brand new truck and not to mention I got bumped up to the Luxury Trim Package vs. I was buying a Base model. Just to prove how good this dealer was is while I was waiting for my New Escalade to come in I get a call from the other 2 Cadillac Dealers on the status of my deal. I took a picture of my contract numbers and sent it to both them. This are the same 2 dealers that said I can't get the upgraded trim level and I can't get a Brand New Escalade it had to be a Demo with Miles. After seeing what Central Houston have done for me this 2 Dealers text back saying we can match that deal and give you a Brand New Escalade too for the same price. What upsets me is I was already at that 2 Dealership working a deal and they gave me the round around. I told them from the beginning I know what I'm looking for and I know what numbers I need to be and they didn't listen. I also make my living in the Sales world so I know everyone needs to make money to pay the lights but there's a limit on how much that is to be taken advantage off. I have bought many cars in my time and met a lot of different sales people. Not everyone is out to get you but my advise is to know what you want and go to a Dealer like Central Houston Cadillac and ask for Xavier I promise you his as honest as they come.
Nat Gordon, made my experience of purchasing a new vehicle a great one with his kindness, expertise, and professionalism. I achieved to of the greatest things vehicle desired and PRICING! Thanks
Welcome to Central Houston Cadillac
The team at Central Houston Cadillac would like to welcome you to our dealership in Midtown, where we're confident you'll find the vehicles, you're looking for at a price you can afford. Come and check out our full selection of new Cadillac Vehicles, or get a great deal on a reliable pre-owned model. No matter which vehicle you decide on, our professional finance team will help you get settled with a competitive financing or lease plan.
When you're looking for quality auto maintenance and repairs in Midtown, you can always count on the professional technicians in our Cadillac Service Department as well.
Ask A Question